About New Hope Fellowship Osaka
Protestant Church in Osaka, Japan
New Hope Osaka International Church
New Hope International Fellowship Osaka is a Protestant Christian church. Our church was started in October, 2005 as a branch church of Honolulu Hawaii's New Hope Church.
Sunday services are held bilingually, using English and Japanese in dramas, videos, member's testimonies and Gospel dance. Messages address the problems related to everyday life, are easy to understand and we learn how the teachings of the Bible can be applied to our lives.
At New Hope, we want everyone to be encouraged and we desire that each person will come to know our Savior, the Lord Jesus Christ. Please come as you are! Also, please come and hear the Good News of God's love.
We warmly welcome you and look forward to your coming.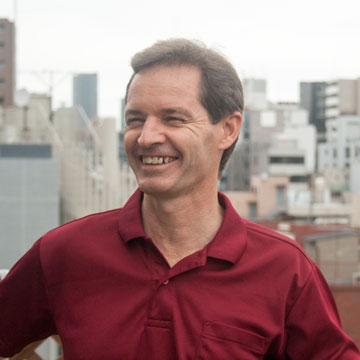 James Hettinger
Lead Pastor
James became a Christian at the age of 15 and gained a heart for missions while in college as he was ministering to fellow students from various countries. After receiving missions training, James came to Japan, where he led church-planting teams,  pioneered and pastored new churches in Chiba, Shikoku and Toyama Prefectures. James has a heart to see Japanese and people of all nationalities growing in God and using their God-given talents for God's Glory.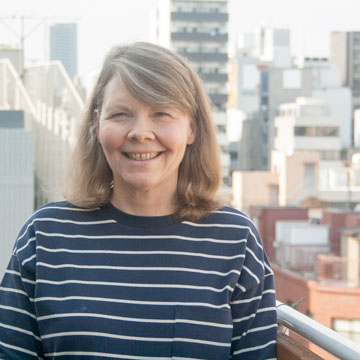 Lynn Hettinger
Praise Team Director
As Praise Team Director, Lynn oversees the worship team.  Since becoming a Christian at the age of 15, her passion is glorifying God through praise and worship and has done so in Japan, bilingually, for over 30 years. Lynn, along with her husband James, raised 3 children in Japan while taking on the challenges of mission & church work in Japan.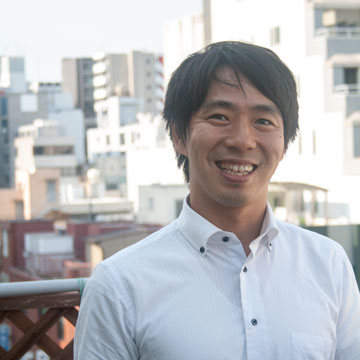 Kohei Hara
Director of Edification, Administration
During his first year at university, Kohei came to know Jesus Christ. After graduating, he worked at a publishing company for four years before joining Japan Campus Crusade for Christ staff in 2003. He moved to Osaka for work in 2005 and has been part of New Hope Osaka since.
Kohei married in 2010 and currently works as the Area Leader for Campus Crusade in Osaka where he's able to reach college students with the message of Jesus Christ. He also enjoys swimming in his free time.
Masao Tsumugi
Director of Equipping, Administration
Toshihiro Ninomiya
Tech Team
Sachiko Shimbara
Prayer Team
Young Ok Nakayama
Greeting & Prayer Teams
Mami Ishikawa
Special Events & Greeting Team
Erich Boileau
Youth Pastor & Web Design
Kevin Kobayashi
Graphic Design & Special Events
Motto
"Love God and touch people with the Love and Faith of Jesus Christ!"
Vision
"Growing Deep, Growing Strong" is the vision of NHO.  The foundation of the church is Jesus Christ ( I Corinthians3:11) Let us build this foundation this year.
Mission Statement
To present the Gospel of Jesus Christ in such a way that turns non-Christians into converts, converts into disciples, and disciples into mature, fruitful leaders who will in turn go into the world and reach others for Christ.
Core Values
1. We Believe that every person, Christian and non-Christian alike, is valuable to God and to His Kingdom. Because people are eternally valuable to God, they are to us as well. Responsible evangelism will always be our cause and ongoing discipleship will always be the core of the ministry. (Matthew 18:14; Matthew 25:45; 2 Peter 3:9)
2. We Believe that "doing church as a team" is God's design for effective ministry. A Spirit-empowered serving with the willing hearted involvement of every person is vital to God's plan being accomplished.(Ecclesiastes 4:9-12; Psalm 133:1; Ephesians 4:11-16; 1Peter 2:4-9)
3. We Believe that a simple presentation of Jesus Christ in creative ways will impact and transform lives. Relating to our culture through redeeming the arts while remaining true to the Scriptures is a balance we will always keep. This allows us to present the Gospel in such a way that reaches the heart. (1Corinthians 9:22, 23; Acts 17:22-34)
4. In Keeping with the Great Commandment, we believe every member should commit to a lifestyle of consistent spiritual growth with honest accountability. A genuine love for God is always the first priority. Every Christian should yearn for continual spiritual growth. Therefore, discipleship through small groups, accountability, and open honesty is critical to maturing in our faith. (Mark 12:29-31; Acts 2:44-47; 1 Peter 2:2; 1Timothy 4:7, 8; Proverbs 27:17)
5. We Believe that every member is a minister who has been given gifts to be discovered, developed, and deployed. We are a gift-based, volunteer driven church. Each believer will find his greatest joy and fulfillment when serving in his spiritual gifts and passion. Every believer is created for ministry, gifted for ministry, authorized for ministry, and needed for ministry. (Mark 10:45; Ephesians 2:10; Romans 12; 1Corinthians 12:14-20)
6. We Believe that God is worthy of our very best. Therefore, a growing spirit of excellence should permeate every activity. Not perfection but excellence with consistent evaluation and a willingness to improve for the sake of the Kingdom of God are distinctive of growing ministries. (Psalm 78:72; Daniel 5:12; Colossians 3:17; Ecclesiastes 10:10)
7. We Believe that genuine love and caring relationships are key to the life of every endeavor. Refusing to give audience to a spirit of complaining, we will instead be courageous in solving every problem in a way that honors God and builds biblical character. We value healthy relationships by protecting the unity of the Spirit in our church. (James 1:2, 3; 1 Peter 3:8, 9; 1Corinthians 13:8; Romans 16:17; Ephesians 4:3)
8. We Believe that the most effective evangelism happens through people inviting people. We believe that a life will reach a life. Each believer develops genuine relationships with friends and family and extends an invitation to them. Evangelism gets to be a normal, natural lifestyle of winning others to Christ, one by one. (Proverbs 11:30; John 1:43-45; John 4:28-30)
9. We Believe in identifying and training emerging leaders who are fully committed to Christ and who will reach their generation with the Gospel. God is raising up men and women who will take the baton of godly character, authentic faith, and servant-hearted leadership into the next generation. (2 Timothy 2:2; 1 Timothy 3:1; Titus 1:5-9; Psalm 78:6, 7)